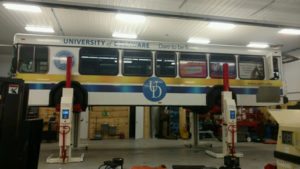 B&G Truck & Trailer Repair is proud to offer expert bus repair and maintenance to schools, businesses and municipalities. Keeping operators and riders safe is your number one goal and it is ours as well. When you trust the safe repair and maintenance of your organization's buses to B&G, you can be sure that our team of professional technicians will keep in mind the safety of your drivers and passengers as we keep your fleet on the road for years to come. If you are interested in fleet terms or an individual repair job, call or click today to learn more about bus repair with B&G Truck & Trailer.
---
Did you know that B&G Truck & Trailer also repairs RVs?
Whether you operate a massive motor home or a comfy camper, B&G can keep your class A, B or C recreational vehicle operating at peak performance on and off the interstate.
Contact us today to find out more about RV repair and maintenance from B&G.